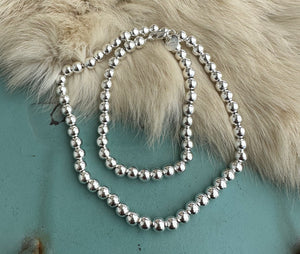 6mm Sterling Silver Plated Beaded Necklace - 18" length
D.Burke Design purchases these chains pre-strung from a bead company.
Size: 6mm
Beads: Sterling Silver Hollow Plated
Seamless beads 
Strung on Chain 
Lobster Clasp Closure
SHIPPING:
Ships in a gift bag
All products ship USPS Insured
Processed within 1-2 days
CARE RECOMMENDATIONS:
To keep the beads looking beautiful, avoid wearing your beads while engaging in wet or strenuous activity such as bathing, swimming, or playing sports. It is recommended to remove before sleeping. Let perfumes/lotions/hairspray dry prior to making contact with beads. Store flat in a cool, dark location. Use a soft cloth to remove oils and to polish your beads.